Advertisement
Tractor Delivery
Games > Truck Games > Tractor Delivery
Tractor Delivery is a small but very addictive physical game! You play as a tractor driver, your goal is to deliver items from the warehouse to the factory, the more items you bring, the more coins you get, for coins you can buy new tractors and trailers in your garage, as well as improve them. Show everyone who is the best transporter! The game has a garage, it's also a store with the purchase of improvements for the tractor, in total 4 tractors and 4 trailers are available. The game has a total of 180 levels that generate the road automatically. Also, the speedometer can show the speed in kilometers or miles per hour, depending on the chosen language of the game.
Release Date
18 March 2020
Game Statistics
Rating: 4.00 (7 votes) • Played: 806 times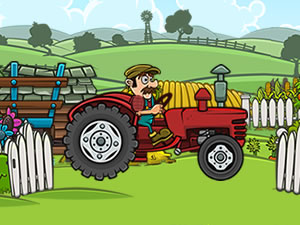 About FunBestGames.com
Our site has many games played by millions of people around the world. We create our own games that are compatible for all platforms on all devices: desktops, laptops, mobiles, tablets, etc. FunBestGames.com is simply created just for you!
Our site has a lot of quality games from other gaming companies that are some of the most famous in this industry. We also have close cooperation with our friends who also have selected quality games with certain categories such as: Speed Car Games, Car Games Online and New Kids Games